We generate qualified sales leads for you
There are exhibitions on any topic and in numerous cities.  A high contact volume and a very good contact quality make exhibitions an ideal platform for subject-specific and target-group-specific promotions. But not only the choice of location is essential. The key to a successful trade fair presence is especially a well-trained and motivated staff. Therefore, it is really important to work together with qualified hostesses, so that the fair presence can be a complete success. Experienced exhibitors know that the success of a fair presence largely adheres to the quality of the staff. In other words: The better the staff, the better the exhibit.
Are you currently planning to exhibit and still searching for suitable exhibition staff? ST-PROMOTIONS has the right trade show staff across Germany, Austria and Switzerland.
We understand that the first impression leaves a lasting impression. Our trade show staff will perfectly serve as a first point of contact.
With us, you decide which profile the hostesses or hosts should have and agree with us the content of the training of the staff. Our trade show staff will support your booth staff in service, in addressing the visitors as well as encouraging them to participate in raffles. We cover all the exhibition centres nationwide, providing local support staff. By this, we are able to reduce expensive transportation and overnight costs for our clients.
In order to be present at a trade show, it is not always necessary to book a stand. The environment of the exhibition centre is very well suited for the implementation of various samplings. Railway stations in the immediate vicinity of exhibition areas are ideal for samplings and significantly less expensive than a stand. We advise you in detail about the various options that offers a fair and develop together the most advantageous solution.
BRAND EINS AT THE FRANKFURT BOOK FAIR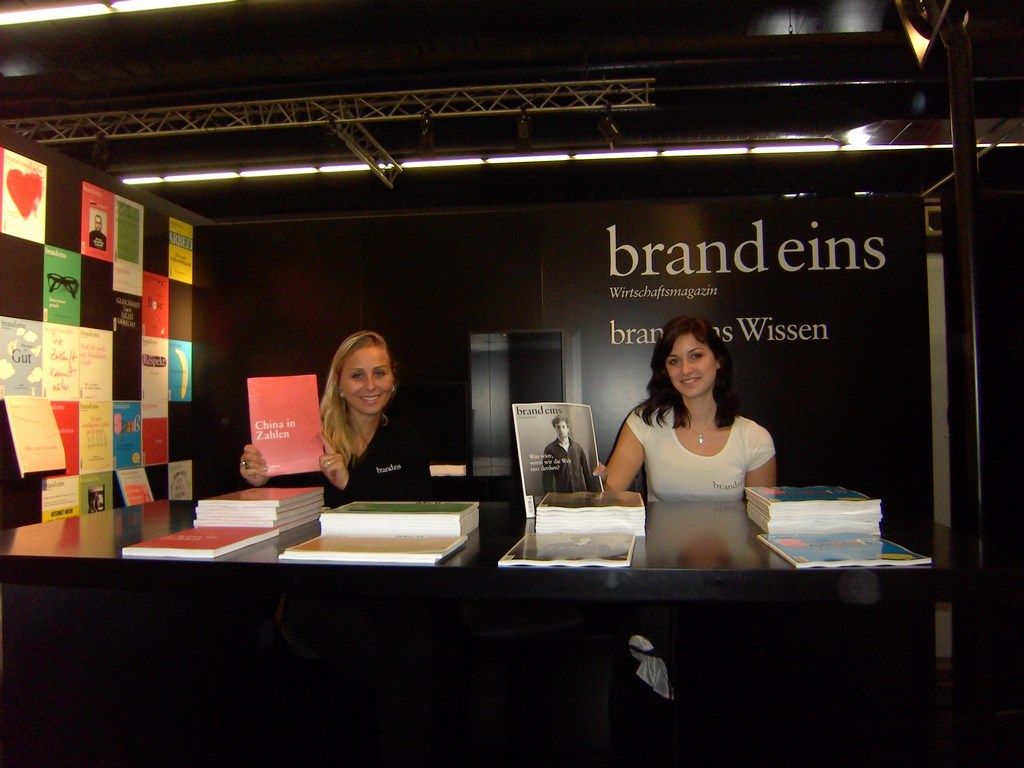 We supported the publishing house "brand eins" in its appearance at the Frankfurt Book Fair. For "brand eins" with its business magazine, the Book Fair is the ideal location, because in normal times, more than 300,000 visitors from the most diverse areas of the printed world come here.
During the fair, our hostesses and hosts looked after the stand and were available to visitors for questions and suggestions. They also walked through the exhibition hall and handed out free copies of the business magazine. The book fair was a perfect location for the business magazine "brand eins".
The potential reader of "brand eins" is urban and cosmopolitan. It is precisely this type of audience that is also strongly represented at the Frankfurt Book Fair and if something is so well-matched, then the trade fair presentation can only be a complete success,