Road shows are the perfect way to present and experience all aspects of a product at the point of sale. Contrary to e.g. classical billboard advertising, road shows are known for their proactive approach and for their active support of communication. Our trained staff will ensure that the product is presented in a appropriate setting in order to reach the predefined target group. For our customers, roadshows permit product merchandising without any coverage loss.
Prior to our road shows, we develop an appealing way of presenting products and then organize the touring. We design the whole set of equipment for the roadshow, from stand-up display to the raffle, according to your needs.
A road show gets the product to the customer – directly and in a target group-oriented manner. With a pleasant face2face communication the value of the product will convince potential customers and leave a lasting impression.
We have trained staff who is familiar with the product details and can answer all customer questions that arise during a roadshow campaign personally.
Together with our customers we work out the right solution for a perfect product presentation.
Please feel free to contact us and we will start to develop a suitable concept to suit your needs.
Roadshow for Greenpeace Energy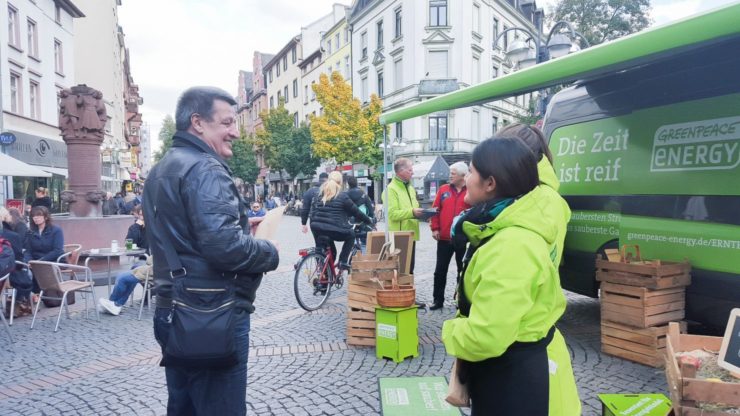 Greenpeace Energy's green mobile toured in Germany with the support of the promotional agency ST-PROMOTIONS as part of a seven-week roadshow. During this promotional campaign, existing and potential customers were advised on site and informed about the new green electricity. In addition, free breakfast bags were distributed as give-aways.
As part of this roadshow, our customer Greenpeace Energy used the opportunity to have face-to-face discussions with its customers and other interested parties. Thus, our promoters dealt with various questions which could be answered directly and competently.
For Grundfos we organized a more practical rather than factual roadshow. The campaign accompanied the product launch for an automatic working lifting system for wastewater. In order to achieve the perfect product placement the customer wanted to approach the target audience right at the point-of-sale. Therefore ST-PROMOTIONS provided the whole equipment for a suitable presentation and invited craftsmen and installers, who whilst having a small breakfast were being informed about the product and all its functions. Furthermore this instruction was followed by a real life demonstration of how to use the product correctly to avoid all potential complication regarding product use.