Brand ambassadors and other skilled promotional staff
Germany is a festival nation. If it's the world's most famous heavy metal festival like "Wacken", a festival at the northern seaside like "Deckhand" or the Artfestival in Reichenbach- everybody finds his or her festival for summer in Germany.
Festival-goers enjoy the positive and euphoric atmosphere during these festivals, where everybody is open-minded and welcomed. This atmosphere is perfect for (y)our promotions.
Looking back on more than 30 years of experience, ST-PROMOTIONS stand by your side with our advice, knowledge and network, in order to organize the perfect promotion with suitable and trained festival staff for your planned festival.
It doesn't matter if you're planning a small or a huge festival with more than 20,000 visitors – we help you find the perfect equipment and festival staff.
Of course, we also print promotional-gifts like foldable ponchos or flags, so your brand gains fame and awareness on the festival.
PROMO STAFF FOR THE FESTIVAL SEASON IN GERMANY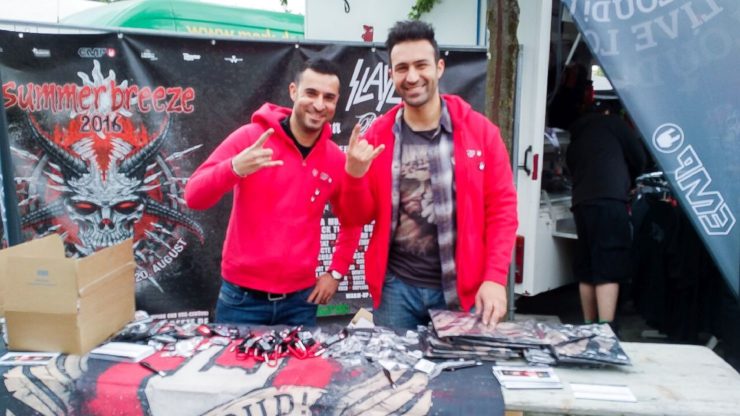 Metalheads and friends of Indie-Rock arm themselves with band merchandise such as t-shirts and pullovers, in order to support their favorite band.
For our client E.M.P. (the biggest mail-order business for rock, metal and entertainment merchandise Europe-wide), our promotional staff got in touch with interested festival-goers by giving them free examples of the new catalogue. If they have left their address and contact-details, they got a huge E.M.P.-Flag, which shows the E.M.P.-Logo. A lot of flags afterwards could be seen in the camps, which showed how effective the campaign actually was.
With the collected data and addresses, our client is now able to plan direct-and dialogue marketing campaigns easily.
By this face-to-face marketing campaign, the promotional staff of ST-PROMOTIONS went up to the party-people and motivated them to take part in our action.
PROMOTIONAL STAFF FOR CULTURAL EVENTS IN GERMANY
Music festivals on the countryside are the perfect possibility for our clients to organize a purpose- and successful marketing campaign or promotion.
Depending on a person's music preference or audience, a lot about the target audience can be said. Thus an effective conception for prospect-acquisition and customer tie is possible.
Surrounded by a picturesque landscape and summerly temperatures, our promotional staff distributed the magazine "Landlust" to the visitors of the Schleswig Holstein Musikfestival.
Reading the Landlust and listening to classical music, the visitors also had the possibility to take part in a sweepstake.