MAKING A SUCCESSFUL RESTART
To make the retail restart a success, it is essential to enter into dialogue with the retail sector now.
The new requirements must be identified and set in priority in order to be able to offer consumers the necessary advice and assistance.
This is the perfect moment to establish customer-focused marketing campaigns, with a special emphasis on the timely communication of information about the product or service.
With shopper marketing campaigns, we give consumers the sense of participation, allowing them to check the products and services before purchasing them, to get to know their benefits and, above all, to try them out.
Using face-to-face communication, it is easier to identify the customer's needs and expectations. Emotions are generated besides the direct experience, which remain in the consumer's memory.
To maintain its position, it is important to be noticed on the market and in the competition, right now.
Promotional activities offer a successful approach for a new beginning.
HOW BRANDS SHOW CUSTOMER PROXIMITY NOW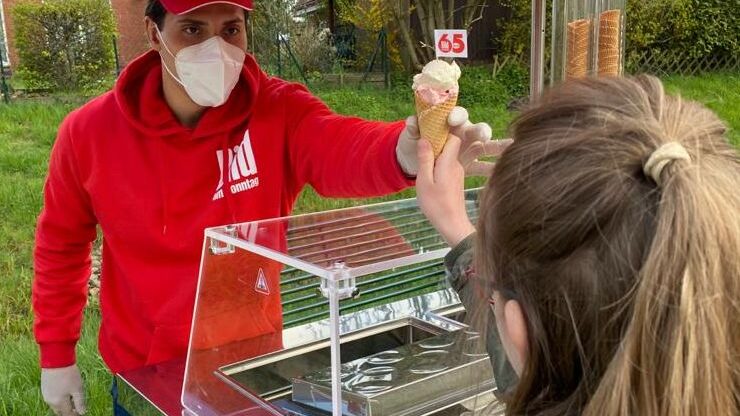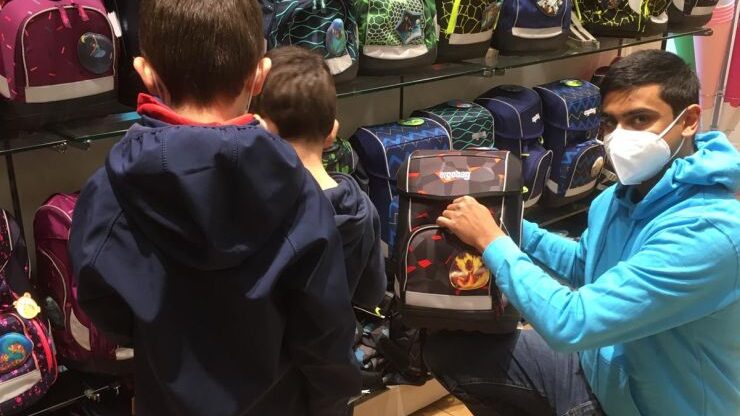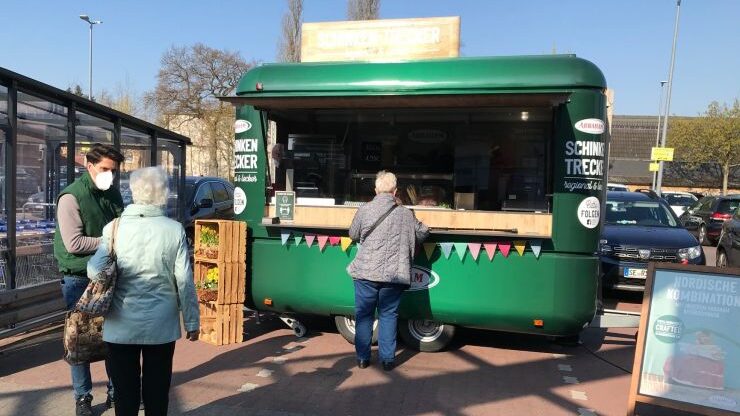 Promotional campaigns
in public spaces
The German newspaper BILD am SONNTAG has been around for 65 years and that is a reason to celebrate.
For its 65th birthday, BILD am Sonntag is giving its readers a present and is saying thank you for their many years of loyalty.
As part of BILD am Sonntag's birthday celebrations, promotional staff is out and about in German residential areas with an ice cream bike, offering a tasty ice cream and a  BILD am Sonntag free of charge to those who are interested.
BILD am Sonntag demonstrates that effective and sympathetic promotional campaigns are even as effective as in this phase of the Corona pandemic.
Of course, the safety aspect always has a central part to play in promotional activities, which is why all staff members are negative tested on a daily basis, equipped with FFP2 masks and strictly observe the compliance of the distance rules.
Instore
shopper
activation
As part of a nationwide promotional campaign for ergobag schoolbags, brand ambassadors help shoppers to find the right satchel for the new school year. We are glad to be able to support these shopper marketing activities to achieve sustainable sales success for our customer.
In order to meet the requirements that are currently placed on all of us and at the same time to ensure an effective and sympathetic implementation of the promotional campaign, all brand ambassadors are equipped with FFP2 face masks and intensively trained in the necessary hygiene measures. Furthermore, the brand ambassadors run monitored self-tests on a daily basis.
Promotional activities
in front of supermarkets
ABRAHAM is known in Northern Germany as the specialist for traditional raw ham specialities for more than 40 years.
The consistently high quality and perfect taste has enabled ABRAHAM ham to build up long-standing customer relationships.
Since it is not possible to carry out tasting campaigns in supermarkets at the moment, the ham specialists have come up with something special this year for the asparagus season in Germany. With the ABRAHAM ham tractor, the original ABRAHAM ham is offered fresh from the piece in front of North German supermarkets.
Observing all the necessary hygiene requirements and safety distances, our promotional staff points out the tractor and the possibilities to buy the delicious raw ham there to interested customers.
I would like to know more about your ideas