We turn consumers into shoppers and shoppers into purchasers
Advertising becomes more important than ever in times of recession.  It is already obvious that changes in  market conditions will take place, in some cases dramatically.
As a professional and experienced partner in the field of customer communication, we can assist you in making a successful restart. We know, wherever there is change, there is opportunity. As experts in the field of face-to-face marketing, we have developed effective approaches that are successfully boosting direct sales and also increasing brand awareness.
Brands prove their values by taking action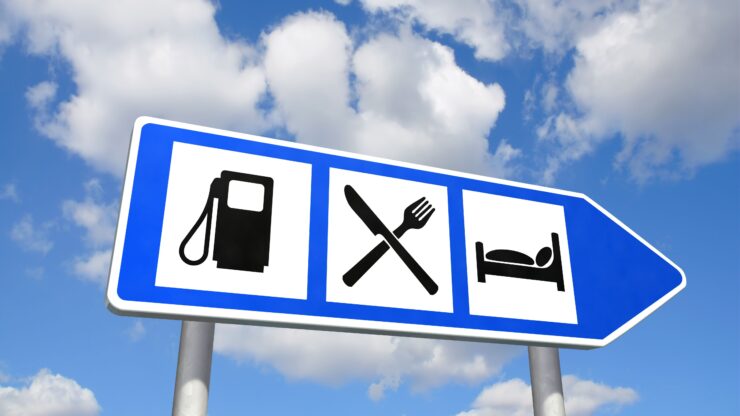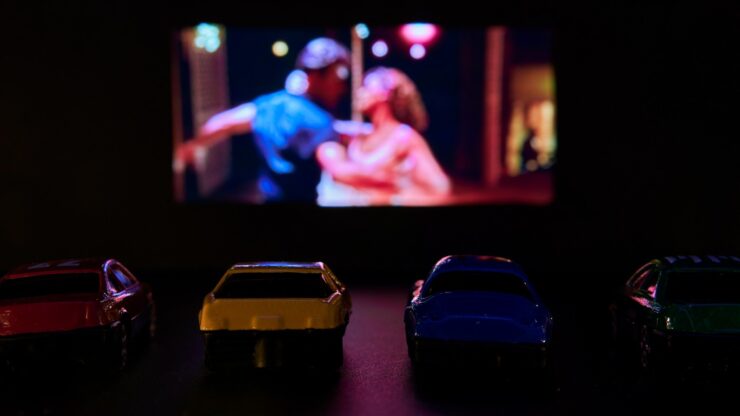 Promotional activities
at the Autobahn
More than 500 million travellers visit one of the petrol stations and service areas in Germany every year.
Especially on the way to the holidays the service stations register a high number of guests. Take use of this opportunity to address your target group directly.
This summer, many Germans will be spending their holidays in Germany. The vast majority will be using their cars for the journey to their holidays at this time.
Use this opportunity to present your product impressively to your customers.
Please ask us about our approaches to present your product.
Shopping safely
at IKEA
The fact that people had missed to visit the Swedish furniture store was clearly shown by the enormous positive response after the lockdown. The IKEA doors in Hamburg remained closed even after the official repealing of the decree of closures. IKEA used this additional time to implement an effective hygienic concept.
Together with the marketing experts of the IKEA stores in Hamburg, we implemented these creative solutions. Following this, we were able to ensure the unique IKEA shopping experience – highly professional and nevertheless on a personal emotional level.
Our experts would be happy to assist you, too.
Concerts and movies
at the drive-in cinema
The event and film industry has suffered a severe setback with the social distancing measures.
But in the midst of the crisis, drive-in cinemas are experiencing a renaissance. In these fast developing alternative venues not only the well-known blockbusters are shown but also several artists use these stages to perform live again.
Take advantage of the opportunity to address your target group directly and personally.  We have developed efficient concepts to address the visitors.
We are looking forward to your inquiries.
Promotional campaigns in compliance with the distancing rules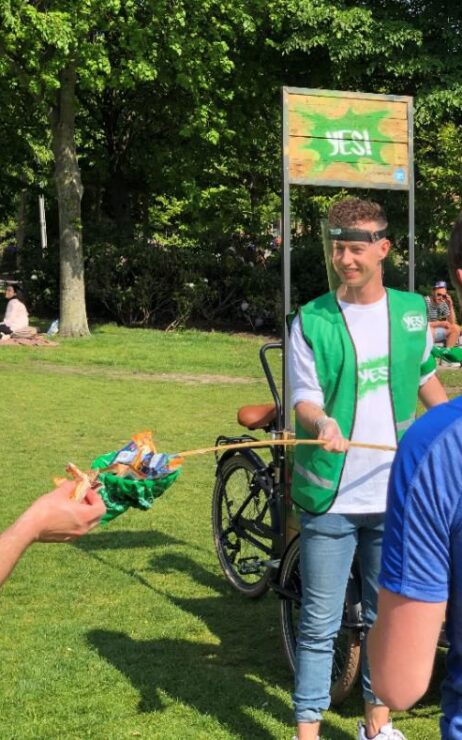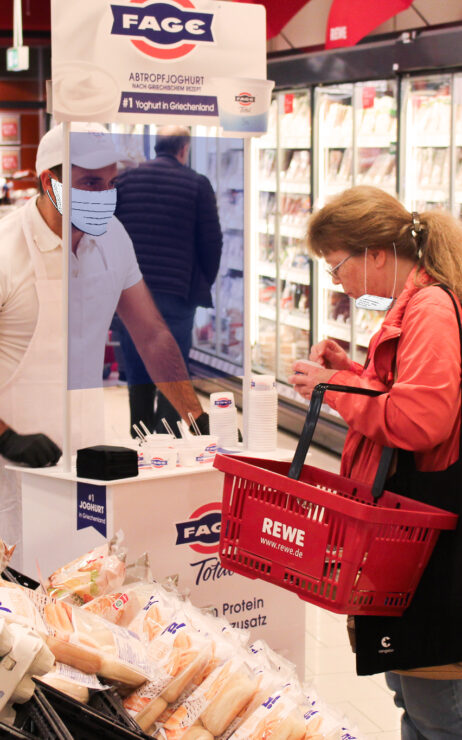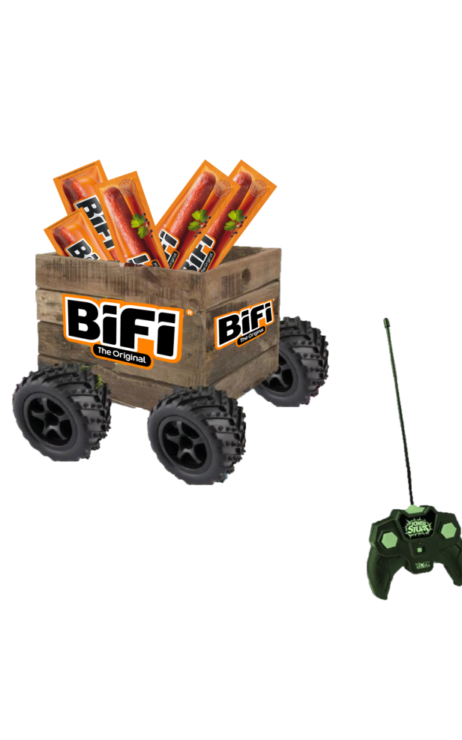 Outdoor product samplings
Outdoor product sampling campaigns respecting the 1.5 m distance guidelines
Equipped with face shields and landing nets, which were fitted with a 150 cm long pole, promoters of our partners from Monsterscore in the Netherlands set out to distribute samples. A team of 2 promoters gave out over 900 samples within 4 hours in parks in Amsterdam.
Of course, the people were also offered the possibility to disinfect themselves immediately with the help of a hygienic dispenser.
These and similar promotional campaigns can be quickly and easily realized in Germany as well.
Get in touch with us.
Product tasting campaigns
Tasting campaigns are also possible in post-corona times. In addition to a promotional concept special attention has to be paid to hygienic and distancing guidelines. Above all empathy in effective concepts in these times requires to respect the special needs of the relationship to customers and also to the trading partners.
Thus, the consumers' concerns about unpacked goods must be taken into account, as well as the food retailers' desire to avoid jam points in the shop.
We take these factors and many others into consideration while planning the campaigns.
Allow us to convince you and get in touch with us.
Innovative product samplings
In parks and public places, places where people come together, a tool specially developed for these times is used – the steerable remote-controlled box.
With this original and sensational small vehicle, potential customers can be addressed in a charming, playful way completely without direct contact. A sample of your product can be presented to consumers in compliance with the distancing rules.
Interested? Call us or click on the button below to access our callback service.
A well-thought-out safety concept
Masks
Whether face shield or mouth and nose mask, our promoters are equipped with the appropriate equipment, depending on the type, location and duration of the operation and are of course instructed in the correct use of the respective masks in advance.
Disinfection
Disinfection not only involves cleaning the surfaces with disposable towels but also includes hand hygiene in particular. We know that disinfecting the hands can prevent infection and contamination with bacteria and viruses.
Distance
To minimize the risk of infection, we strictly ensure that the recommended minimum distance of 1.5 m is maintained everywhere. We communicate these rules of conduct in our training courses and use specific aids to maintain distance such as distancing marks.